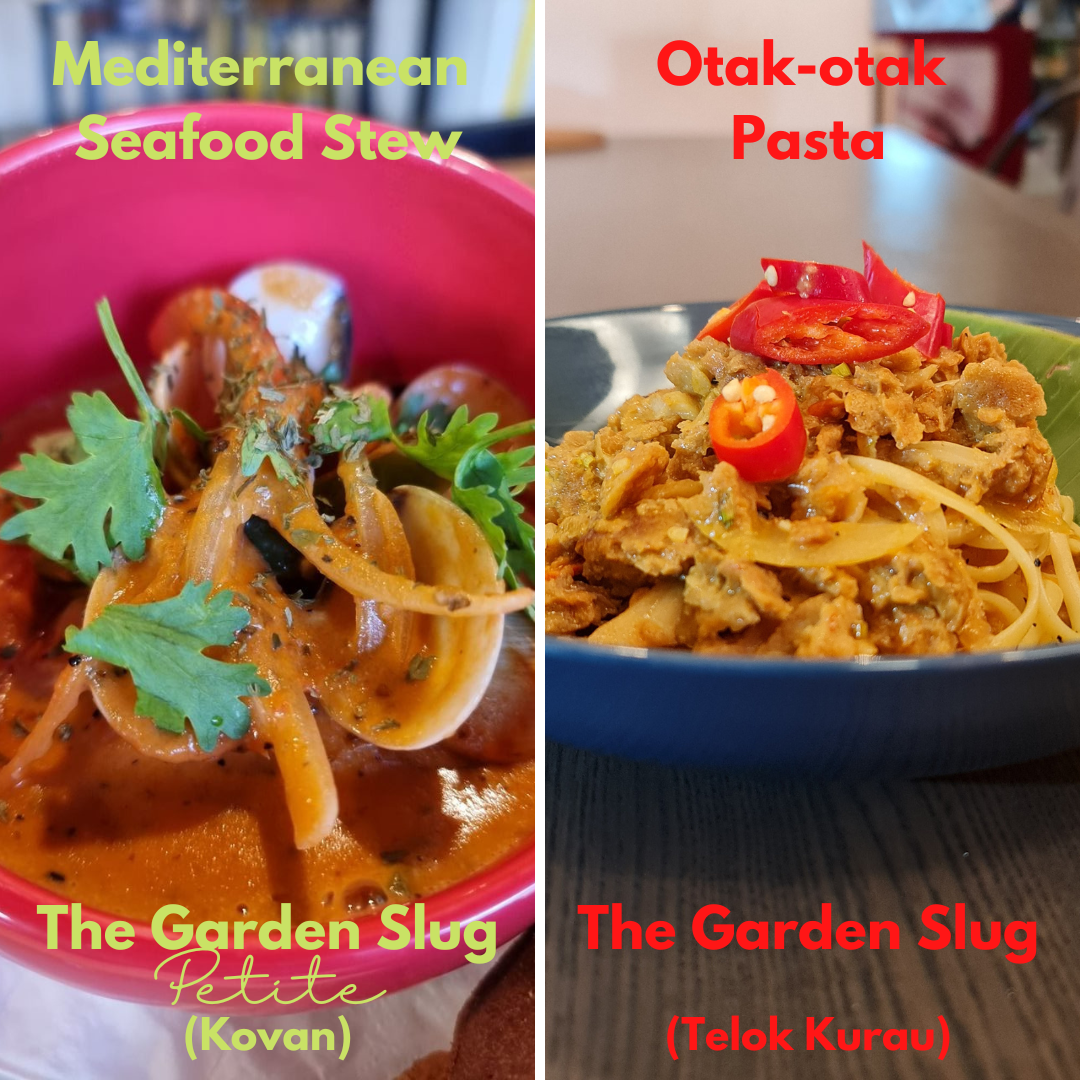 Weekend Specials: Otak-otak Pasta & Mediterranean Seafood Stew
We've got TWO specials for you this weekend - one from each of our outlets:
🍝 Otak-otak Pasta by The Garden Slug, and
🥘 Mediterranean Seafood Stew by The Garden Slug

Petite
---
---
Otak-otak Pasta
(at The Garden Slug, Telok Kurau)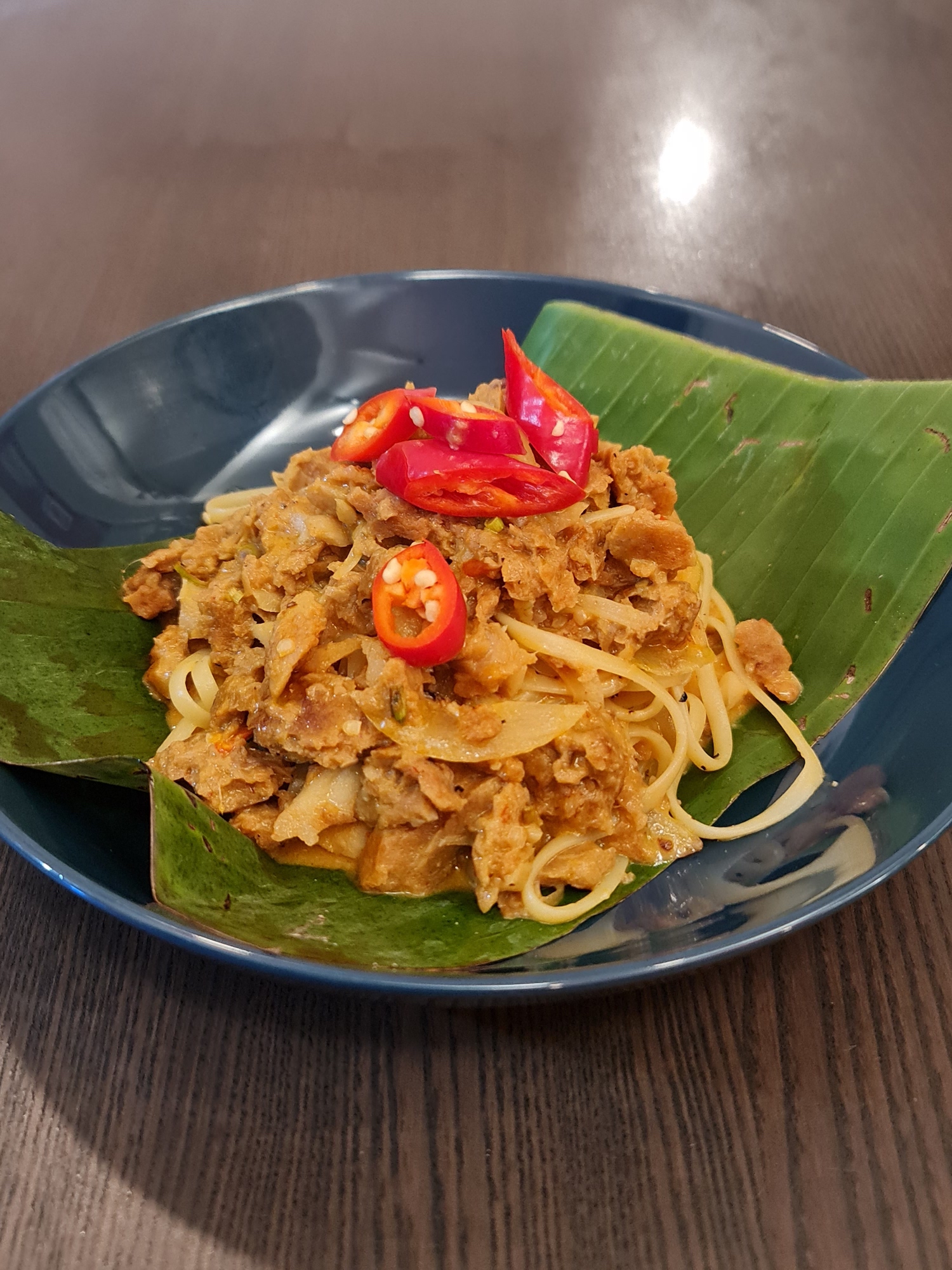 We made this for those of you who love a fiery tang and robust saltiness to your pasta! Ingredients include authentic premium Muar Otah (imported directly from Muar, Johor); gently tossed with lots of lemongrass, garlic, onion, and chili.
For the uninitiated, 'otak-otak' or 'otah' is fish paste that is steamed or grilled in leaf parcels. Its reddish-orange colour is acquired from chili, turmeric, and other sekret spices.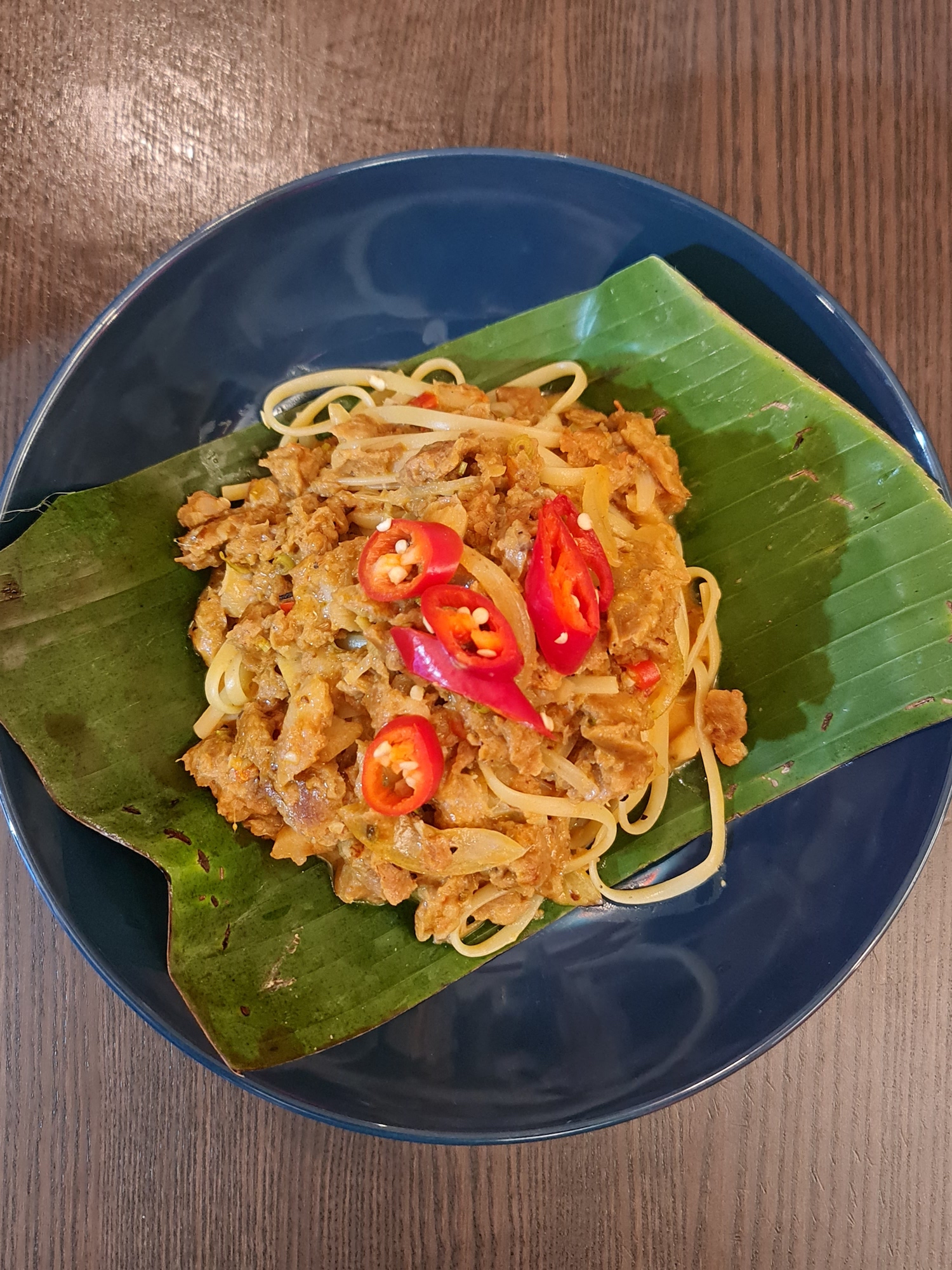 Does this look 'brainy' to you? 👀
The word '𝒐𝒕𝒂𝒌' in Malay and Indonesian means 𝒃𝒓𝒂𝒊𝒏𝒔, derived from the notion that certain varieties of it resemble brain matter 🧠 (all the zombies reading this be like 👀 🧟‍♀️👀🧟‍♂️ 👀)
While we can't claim that eating this will make you any smarter (or turn you into brain-lusting zombie…), we can almost certainly say it'll make your day better, especially if you're a spicy food lover 🌶🌶🌶
🔥 Feel free to request more cili padi (bird's eye chili) if you like! But do know that even though the first mouthful might seem not quite hot enough, the heat builds as you eat. YOU HAVE BEEN WARNED!
---
Otak-otak Pasta
🔔 available Friday through Sunday 29-31 July 2022
🧟‍♂️ 𝑶𝑵𝑳𝒀 𝒂𝒕 𝑻𝑯𝑬 𝑮𝑨𝑹𝑫𝑬𝑵 𝑺𝑳𝑼𝑮 (flagship store)
📍 55 Lorong L Telok Kurau, #01-59/61 Bright Centre, S 425500
🔖 Reserve a good table ahead of others: book online / call 8166-8888
🛍 Order delivery / takeaway - save 10%
 
---
---
Mediterranean Seafood Stew
(at The Garden Slug
Petite

)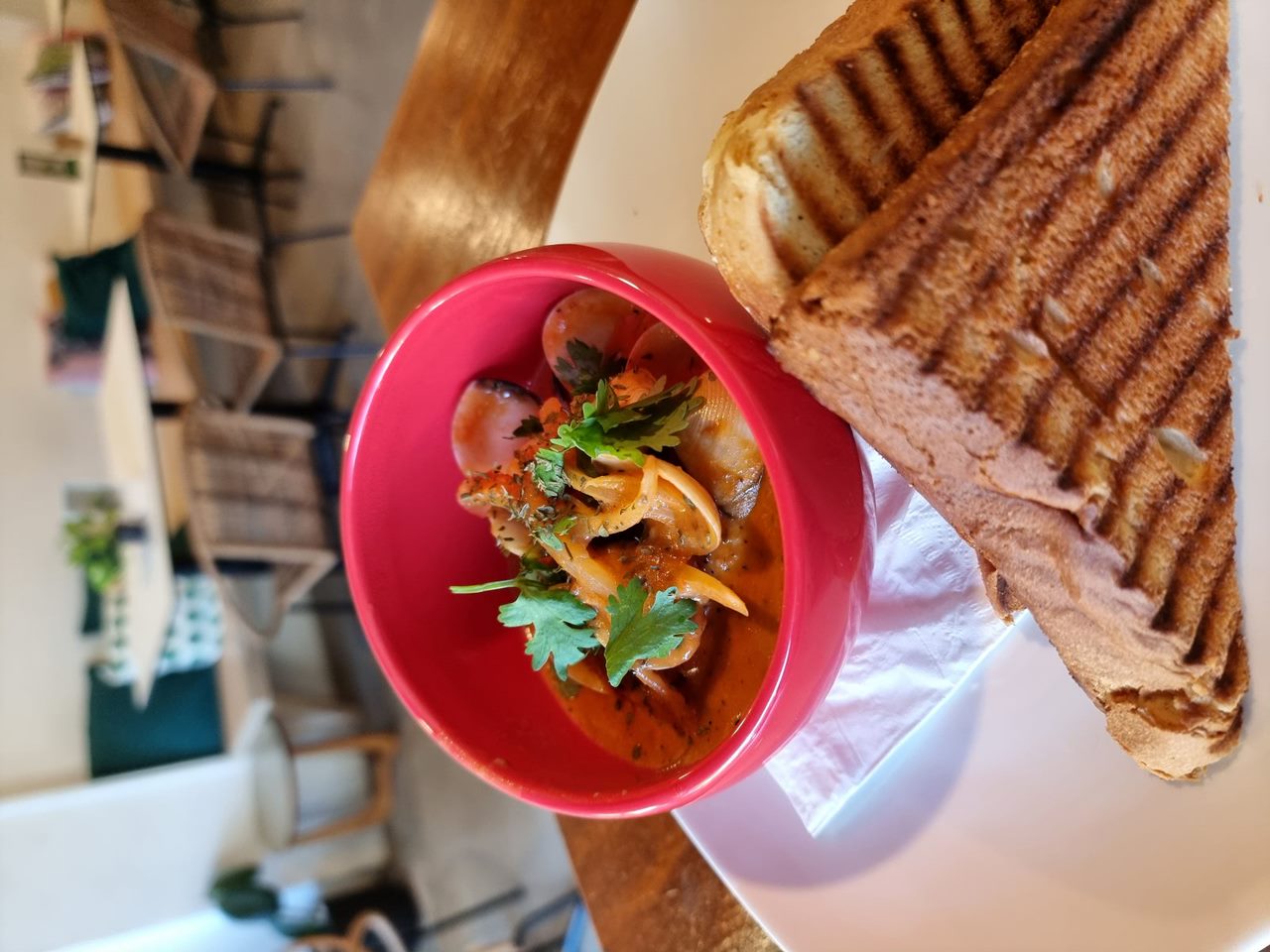 While we may add a Mod-Sin interpretation to some of our dishes, this robust stew is originally a mediterranean concoction.
You'll find this cooked with wine, blistered tomatoes, and a dash of cream to produce a rich gutsiness.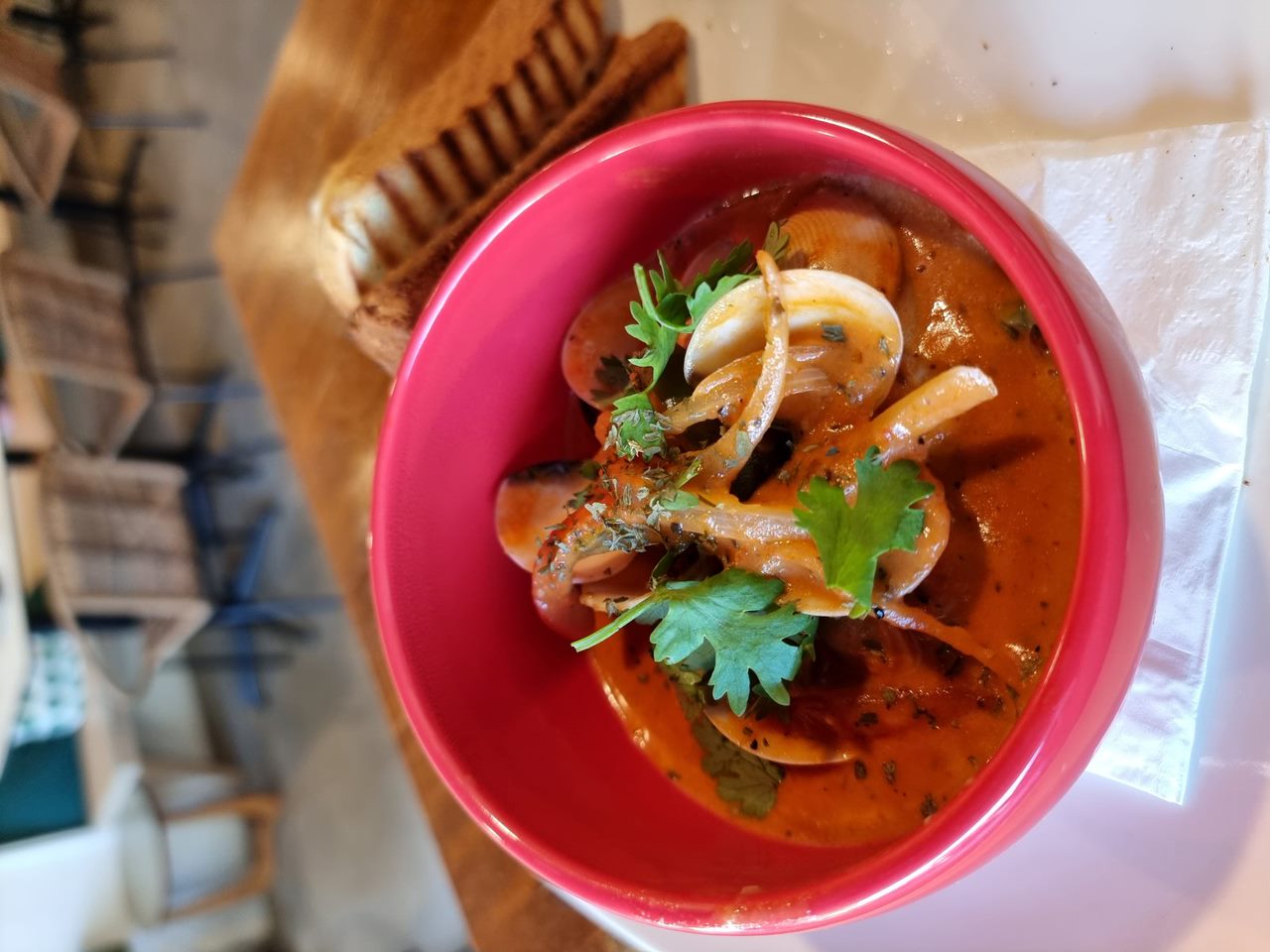 The stars of the show are, of course: fresh clams, juicy shrimp, white fish, capsicum, and sweet onions. Don't be fooled by the bowl's shape - making it look deceptively small. This is very much a main course stew, not a first-course soup - although, we will neither judge nor stop you if you'd like to have it as such!
Finally, the customary addition of fresh coriander for that final flourish.
Pairing it with dense, toasted Brioche is what makes this a complete, absolutely filling dish that is sure to last you for a few good hours.
---
Mediterranean Seafood Stew
🔔 available Friday through Sunday 29-31 July 2022
🌊 ONLY at The Garden Slug Petite (new outlet!)
📍 37 Lowland Road, S 547440
🔖 Reserve a good table ahead of others: book online / call 8948-4668
🛍 Order delivery / takeaway - save 10%